Why It's Never Too Late To Begin Your Own Valentine's Love Story
As we get older, life can wear us down. The notion of finding love feels ever more unrealistic. As a consequence, it's easy to become rather Scrooge-like about Valentine's Day. Having to punch one's way through a wall of roses, chocolates and novelty cards to reach a microwavable meal for one at the local supermarket is no-one's idea of fun! As dating experts, we'd like to let you into two industry secrets. Firstly, this time of year is known within the dating world as Peak Dating Season! Secondly, many of our gorgeous clients find that, with the right guidance, love can be found at any stage in life.
This year, former Elect Club clients, Kim and Chris, will be spending their first Valentine's Day together. Here is their story, in their own words:
Chris :
My approach to dating wasn't working. As a result of unsuccessfully trying a number of online dating sites, I was becoming very cynical. I had nursed my terminally ill wife for two years. This was followed by two years of grieving. At 59 years of age, the prospect of dating again was daunting.
I picked up a golden nugget of advice on a Tony Robbins course: " If something is not working in your life, take massive action and get a coach". As a result, I contacted dating coach
James Preece
and signed up for his online blogs. Working with James gave me new confidence. James introduced me to
The Elect Club
. I met with CEO,
Genevieve Zawada
, who listened to my hopes and dreams. Consequently, Genevieve invited me to a dinner at the Secret Supper Club, in London. Genevieve described a lady called Kim to me and said we would be introduced on the night.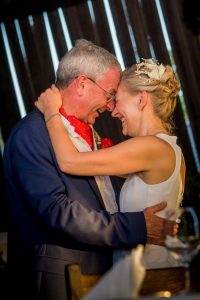 Having been introduced, Kim and I talked into the small hours and too soon she was whisked home by taxi. I had found The One! We became engaged four weeks later, having fallen head over heels in love! We married in Antigua on the beach, 6 months to the day we met. Kim is my soul mate and best friend. We have such plans for our new life together!
Kim :
I was ready to find a life partner. I was divorced with a demanding career. My grown up children had flown the nest. This was a great time to look for love, but how?
I decided to avoid the 'hit and miss' experience of online dating. I wanted to meet like-minded people who were also serious about finding love. Additionally, my personal safety was a priority. Therefore, I arranged to meet
Genevieve
for a coffee and a chat. Genevieve made me feel confident and optimistic about my chances of meeting someone very special.
Chris and I have just celebrated our 2 month wedding anniversary. Life has truly restarted and every day our love continues to grow. We will be celebrating our first Valentines together this year!